We hear some of the most heartbreaking, yet heartwarming stories here from our brides.  This one is absolutely beautiful.
First, the bride: Katerina is absolutely gorgeous, and chose a classic Alvina Valenta in blush silk with hand-stitched embroidery and detailing on the bodice.  It's perfect with her colouring, but there's a lot more to the story than a beautiful woman picking a perfect gown.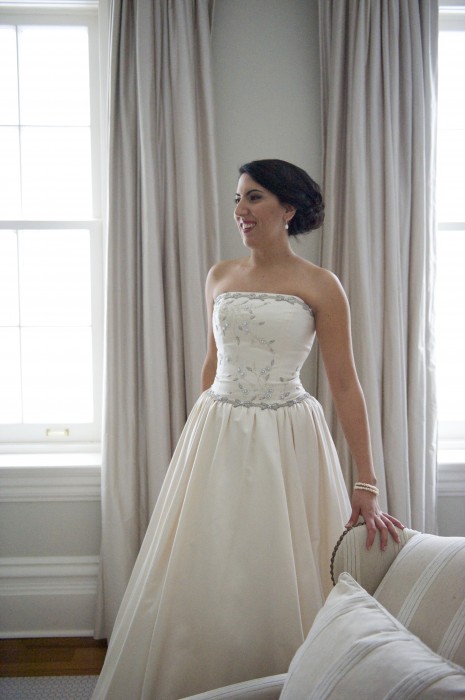 As she says,
"I'm the one who walked in and walked out after one hour with the most beautiful and elegant wedding gown ever. My wedding at Langdon Hall on the 26th of January was idyllic; it was the romantic and elegant winter wedding me and my husband planned, worked and wished for.
I stay true to my promise to send you photos; after all you and the girls who helped me out are my wedding gown fairies! Honestly, the story of this dress is one to tell for many years to come; every single one of my guests mentioned how much they liked it and the following day everyone at the hotel complimented me for my choice (a waitress went so far to tell me that mine was the most beautiful one she had ever seen and she mentioned she had seen quite a few having worked for years at the venue!).
The wedding dress was not just a success; I felt beautiful wearing it and above all I felt comfortable in myself. I also felt that having lost my dad to cancer; he was proudly walking with me down the aisle feeling very proud for my choice. And my wedding procession song was vissi d'arte sang by Maria Callas. I was crying all the way to the groom.. : )
Your work will always mean so much to me.
Katerina, I have no doubt that your father is incredibly proud of you in so many ways, and YOU have meant so much to all the people you touched at The Bride's Project.  Hopefully, with the help from our proceeds, someone else's father WILL be there, and that's the most beautiful wedding gift you could ever offer.
With that, I close with this photo, and thanks to Katerina and her photographer
Trina Koster
: