The dresses keep comin' in – and we strongly encourage donors to send us pics to post.  Not everyone is comfy with that, so what we show you is just a small selection of what truly arrives on a regular basis!  Our utmost thanks to ALL our gown donors… your contributions are incredibly important to us.
I should have posted this one sooner – but I think the timing is perfect given the plunge in the temperatures here in Toronto!   Thank you so much Lee for sending us your gloriously, luxuriously crimson red gown.  Just looking at it makes me feel warm: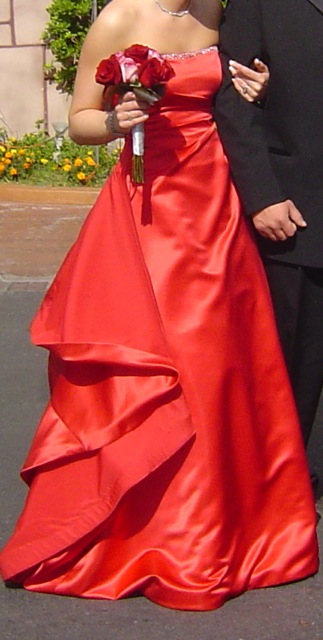 Sweet Julie came in over the holidays while visiting from Ottawa, and brought her stunning dress with her.  She looks so pretty in it, and now it can be enjoyed again!  Thank you Julie for thinking of us, and taking the time and trouble to donate such a cherished item.  Credit to Melanie Rebane Photography for a great pic!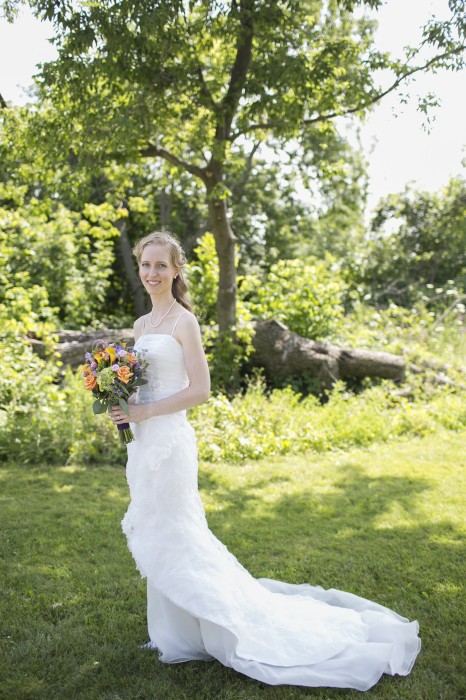 On its way is a stunning gown from Megan, who really does it justice!  She just beams with joy with hubbie Mike… and has a special note to pass along with her dress to the next lucky bride to give it a spin down the aisle.  Photos courtesy Sara from http://www.saralynnpaige.com/ and Gary from http://www.digitalshutterbug.ca/  I particularly LOVE the second shot for the way the skirt moves!
And last, but definitely not least… we received this little peach of a dress a few weeks ago, and while we hope to get some pics of the bride in it… this will have to satisfy for now!  It's a $4000 Melissa Sweet "Dora" in size 0 or so, and it's just so cute!  Our staff are so in love with it!