Here are some wonderful things that other couples have shared about their experience with me (Helen) as an officiant.  And I didn't even have to pay them to say it!!!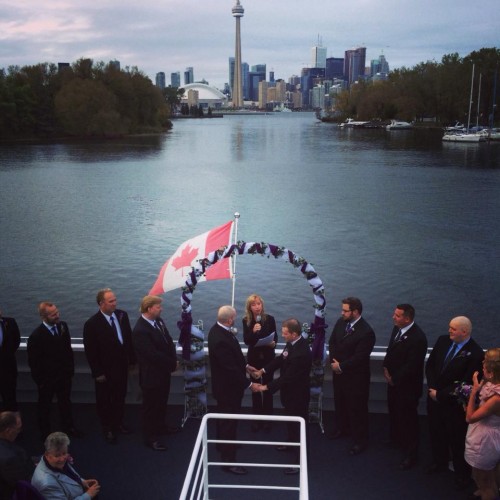 Jill Hicks, Yankee Lady Cruises General Manager and wedding specialist, has been dealing with Helen Sweet the owner of "The Brides Project" for several years. Helen is one of Jill's favourite officiants for ceremonies on their magnificent 300 passenger cruise boats. Jill and Helen guarantee a stress free ceremony for their brides and grooms.
From Jill Hicks, Yankee Lady Yacht Charters
Helen Sweet exceeded our expectations! After our first phone conversation I knew she was the officiant for us. Her modern attitude towards weddings was exactly what we were looking for. Our meeting went very well and I loved the ceremony she wrote for us. We were just sorry that we didn't have more time to spend with her on the actual day. She even sent us a very lovely email later that night. I would highly recommend her!
Kirsten & Cameron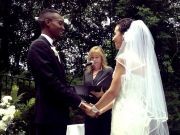 Helen Sweet exceeded our expectations. She was absolutely amazing, extremely helpful and such a great personality. We got numerous compliments from attendees about the ceremony and how great her delivery was. We do not have enough good words to describe Helen.
Maha & Aaron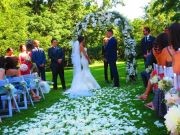 Helen Sweet not only met but surpassed out expectations. She was professional, patient and kind through the entire process. She was very prompt with her email communication and she didn't even give us a hard time when we were late submitting our vows. Thank you Helen for all your help… From suggestion our amazing wedding venue to being so accommodating to our wedding start time. We are so pleased that you married us and would recommend you again in a heartbeat!
Sean & Sarah
Helen Sweet was amazing! And completed my perfect wedding! A million thanks to her. Everyone is still talking about how great she was.
Taryn & Jason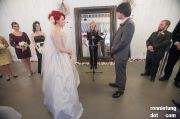 Helen Sweet surpassed all expectations. People came up to us all night, saying it was the best wedding ceremony they had ever seen. People wanted to know how we found her! It was a perfect ceremony, and I can't thank her enough.
Isabelle & Luke
We couldn't have chosen a better officiant. Helen Sweet was exactly what we wanted. It was a pleasure working with her and she made the stresses of the ceremony completely disappear. She was well spoken, she had a wonderful personality, and she was well-liked by everyone!
Genevieve & Jason
Helen Sweet was awesome! We would definitely recommend Helen, as was your service in general. We honestly couldn't have asked for a better officiant. Helen had us relaxed from the moment we met her, and through the whole process of putting together our ceremony she was extremely helpful and always wonderful to deal with.
Heather & Chris
Helen Sweet was excellent; funny, but professional and upbeat. I would recommend her and your service to anyone.
Barry & Argie
Helen Sweet was kind, friendly and fully shared our vision of the wedding. Her service was wonderful and we had several guests complimenting how good she was.
Paul & Lindsay
From the first email, I knew Helen was the officiant for us. She works tirelessly to make sure you are comfortable with the process and is very encouraging the whole way through. She's got a great sense of humour which will put you instantly at ease and I couldn't be more happy that we choose her. When you meet her at her home, be sure to pet get adorable cats. They love it! We opted to have her come for our rehearsal, which really helped us with the run through of things to come on the big day, and definitely helped release a lot of the tension. She does a non-traditional ceremony, which is exactly what we wanted, and everyone commented afterwards how great it was. I think generally people appreciate the food the most at weddings, but I think in our case, due to Helen, they loved the ceremony the most. I know my husband and I certainly did. Also, she heads a charity business called Brides Project that sells donated wedding dresses and donates all proceeds to various women's charities in the city, so if you don't have a dress yet, you should definitely check her out. So in short, hire her! You will not be disappointed.
Angelina and Alessandro
Helen Sweet is awesome and made it truly memorable for us and our families. I would recommend her and All Seasons Weddings to everyone getting married.
Anita & David
Helen Sweet did a fantastic job! She was very professional and had great suggestions. We are the kind of couple that can't focus and stay on a deadline but she managed to steer us in the right direction and the ceremony turned out just as we wanted it. Thank you, Helen for helping to make our day so special!
Julie & Paul
We selected Helen Sweet to be the one to conduct our ceremony and we were very happy with her guidance and expertise leading up to the day. Her positive attitude and sunny disposition complimented our experience in sharing such a special milestone in our lives. We wanted to choose someone that we felt comfortable with and Helen was the perfect choice. Many thanks for your efforts on our special day!
Sharon & Pietro
We picked Helen Sweet because we loved how easy going she was and her sense of humour. We had an amazing ceremony because of Helen. She was extremely professional yet hilarious. She was extremely reliable and responded to any questions that I had immediately.
I would 100% recommend Helen Sweet. She is a great person and it was a pleasure having her marry us!
Julie & Frank
Helen, we really appreciated all your help in planning our surprise wedding. You thought of all the details and helped us customize our service to fit us to a tee. I laugh every time I think about the two of us walking over to the party together and people driving buy thought that you and I had gotten married during pride weekend.
Tracy & Dean
The choice of person to marry you is a very important one.  This epiphany surprised my husband and I, since we knew our ceremony would only last about 20 mins and were not overly religious people with ties to a church or official. However, when our family friend fell ill and could no longer marry us and we had to start searching for an alternative, this caused me stress to no end.
I wanted someone who knew us, felt comfortable to us, and would do our short little service justice – it was short but still very important to us. And had to be delivered with the warmth we considered when we created it. I had bought my dress at The Brides' Project so I knew of Helen, but didn't know her personally. However, when she posted on her site that she was licensed we both knew we'd found our solution – and he'd never even met her.
Her style and personality is so relaxed that it was impossible to not feel comforted by even her emails to us while planning our meeting. Even the fact that we would be her first wedding didn't cause us any stress because upon our meeting with her to plan our ceremony it was clear that she was organized, knew her stuff, and "got" what we were trying to accomplish with our brief little ceremony.
She made great suggestions and supported our decisions, and will forever be remembered for playing a very important role in our wedding day. And that's how one should feel about the person who makes it official.
Vanessa and Mike
When we first met Helen, we instantly knew she would be the perfect officiant for our wedding ceremony. She took the time to get to know us, and show us her genuine and sweet personality. Although it's questionable who has a bigger obsession with ladybugs, one thing we know, is Helen captured the essence of our love and journey, helping us create a meaningful and special ceremony with words that will last a lifetime.
Thank you Helen for being a part of our journey and our special day!
Love, hugs & ladybugs,
Lina & Kelly
We had originally booked a different officiant for our wedding. I met Helen on other wedding related business and she was funny, engaging, kind and helpful and when I found out she was also a wedding officiant I knew at once that I wanted her to be a part of our day.
We were a blending family; a second marriage for both with children on each side and both of us had lost a parent. These were important things to integrate into our ceremony as we celebrated the joining of our two families. Helen allowed us to have complete control over our ceremony and with her help, we were able to make our children a meaningful part of the ceremony and include the memory of our deceased parents. Our guests commented on how touching the ceremony was and what a fabulous job Helen did officiating.
It is clear that Helen loves what she does and it shows in every step of the ceremony planning and execution. Helen, we are truly honoured to have had you be a part of our wedding.
April and James
Helen was generous with her time and patient with us: We wanted a truly original wedding that was outside of the bounds of ordinary ceremonies, and she was neither judgmental nor trying to over-ride the ceremony.  Helen was gracious, fun-loving and truly added her wit and presence to become a part of our special day.  We knew we picked the right officiant when the guests warmed up to her right away, even the more stand-offish fans of more "traditional" weddings.
Naomi & Dominic
I first met Helen while shopping for a wedding dress, I was that girl who fell in love with the first dress I tried on! Luckily, Helen was very supportive of my decision and I am so glad that she was!
After the dress shop, my husband and I were looking for an officiant for our wedding. We are not-denominational an we were looking for someone who would respect our wishes and help us design something that was uniquely ours–including "pinky-swear" vows. She was eager and available to fit our unconventional hours.
After the ceremony she performed, we received many complements about the way she set up the ceremony and even where she was standing in relation to the couple. She spoke with a clear voice and knew exactly when to pause for effect.
Overall, I cannot imagine our wedding without Helen. She was wonderful through the entire process.
Ashley & Jeff
I found Helen while looking for a non-religious officiant and we had a rapport as soon as we met.
She was very supportive and helpful when it was needed, she also turned into someone that I keep in touch with and would call a friend.
We were so happy to have her as our officiant, our wedding day would not have been as special as it was if it weren't for her professionalism and sense of humour, since my husband is the comic relief at any party, our wedding not being an exception.
I would recommend her to anyone who was looking for an officiant.
Amanda & James
"Helen gave us so much inspiration and help in creating our customized wedding service. She was always available for discussion, and did so much to make our wedding a fun, relaxed, and beautiful ceremony."
Sara & Steve
Hi Helen,
Oh my goodness we can't begin to thank you. The wedding ceremony was incredible to me. I felt like no one was in the room but us three. It was exactly like we had talked about, but with beauty and emotion. I love Steve so much!!  I really had just the best day.
Thank you again for helping us make the day perfect – you really contributed to our day and helped me feel at ease. It was amazing.
Amanda and Steve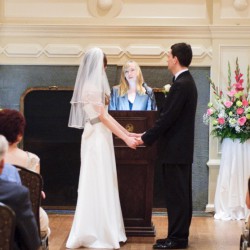 Hi Helen!
Thank you for being there!
The ceremony was wonderful, you did it just right and it was such a great experience working with you. Thank you for your support beforehand, and on the day of!
You are awesome!
Here is our review:
We chose Helen to be our officiant because she was very enthusiastic, accommodating, and experienced. She really cared about our wedding and helped us refine the vows, answering our questions and giving good advice.
On the day of the wedding she arrived early, and delivered the ceremony professionally and exactly the way we wanted it.
Thank you for a great ceremony!
 Anna & Alex
Hi Helen!
We were planning to write sooner but took off on an internet-less road trip right after the wedding and are just getting back online now.
THANK YOU so much for all your help along the way and for the wonderful ceremony at our wedding! We are so appreciative to have found you to be our officiant – we had such a positive experience and are very grateful for all your warmth and insight.
We hope you had a good time too – it was a fantastic night for us and we got many warm comments from friends and family who thought the ceremony was great =)
All the best,
Tina & Greg
Everyone commented on how good the wedding officiant was, people asked if we knew you from before because you talked so comfortably about us.
Didem and Altug
We thank you so very much for being there.  I found myself feeling so at ease with you, and Susan as well.  The small informal wedding…I can honestly say was the highlight of my life.  The vows flowed through my heart to Susan, and Susan said the same.  It was the happiest occasion for the both of us.  And we want to extend our warmest thanks for being there and sharing this special time with us.
Although we've only known you a short time, it feels like you're family.
Susan and Karen
Together Paul and I have such wonderful, funny and loving family and friends and you made us all laugh and have a great ceremony.  The flowers were the least we could do for all the joy and support you gave us on our wedding day.  I'm glad they brighten up your kitchen

Once again thanks so much for everything and we will keep in touch.
Paul and Donna
You were wonderful. You made us feel comfortable and as relaxed as I think we could have been.  A lot of people have said we didn't seem nervous, I guess that means we are good actors cause man, were we nervous!  We really appreciate all of your help with the ceremony and our vows, it was exactly what we wanted and I think it turned out fantastically.
Laura and Tyler
Thanks so much Helen, it was truly a great experience working with you.  We enjoyed making it personal and special to us, and your help was essential in making it possible.  We got lots of compliments on the ceremony and you as our officiant, so thank you.
Adrienne & Valaire
Everyone spoke about how personal, and "not the regular blah blah blah" our ceremony was… and how laid back and easy going you were.

Lisa and Trevor
I cannot thank you enough for everything you did for Sean and I.  To know we were in your hands on our day, a dream come true, provided us much comfort and peace.  We could not have had anyone more perfect, genuine, professional and loving.
You have touched my heart in so many ways and you truly are one of a kind person that I am honoured to have met and hope to see you again!!
Sean and Lynae
 First we just want to say a huge thank you for yesterday! We received so many compliments about you and the ceremony and our guests (as well as Jeff & I) really enjoyed it!
Thank you once again for being such a huge part of an unforgettable day.
Emily and Jeff
Dear Helen,
Thank you for marrying us!  You guided us through this process so well, it was so easy. Our families absolutely adored you. You were such a great fit with our kooky bunch.
Melissa & Brandon
We got so many comments about the ceremony, about how people felt it was personal and fit us beautifully… and even that it was the best ceremony that they had witnessed, especially for those reasons.  Thanks again!
Kevin & Shahzia
Dear Helen
We felt so comfortable putting our ceremony in your capable and kind hands.  Thank you so much for being a part of our day and guiding us through our emotional commitment!  I can't imagine anyone else who could have done a better job, putting us at ease, and representing us to our loved ones.
A & J
Hi Helen,
Thank you again for being such an amazing officiant! We've received so many comments from guests who loved the ceremony and we loved every minute of it too!
Natalie & Ryan
Thank you Helen Sweet of the Bride's Project Toronto for being an exceptional Wedding officiant and giving us the wedding ceremony of our dreams
Suzanne & Kaz
Just wanted to thank you for your efforts & professionalism officiating our wedding. Your warmth & personal touch really helped make our day that much better.
Elgin & Julia
Thank you so much for being part of our special day! You were amazing and we got so many wonderful compliments on the ceremony. Thanks for all your time and help, we couldn't have asked for a better person to marry us.
Christine & Tim
Thanks so much for reading!  I'll look forward to chatting with you about how I can make your wedding fabulous too.