We now have a unique collection to offer… only 5 dresses, and once they are gone that's it!
CarlyMichelle is a bridal collection inspired by the beauty of nature and organic matter, by incorporating floral hues, textured laces, delicate organza flowers, softly draped silk fabrics and natural fitting silhouettes. This collection was designed by Carly Hobson, a Ryerson Fashion Design student, as a graduation requirement for the Senior Design Project course at Ryerson University. CarlyMichelle gowns gives brides a romantic look by using luxurious fabrics such as embroidered lace, assorted silk fabrics, organza flowers and bridal tulle. Two designs within the CarlyMichelle collection are versatile, as a result of having detachable elements in some of the designs, such as a removable tulle skirt and two-piece silk gown. CarlyMichelle gowns add a splash of color, creating a one-of-a-kind look for a blushing bride's special day.
1. This two-piece gown has a mature appeal.  It features a halter top of blush Italian silk overlaid with lace in an asymmetrical peplum silhouette over a trumpet style skirt.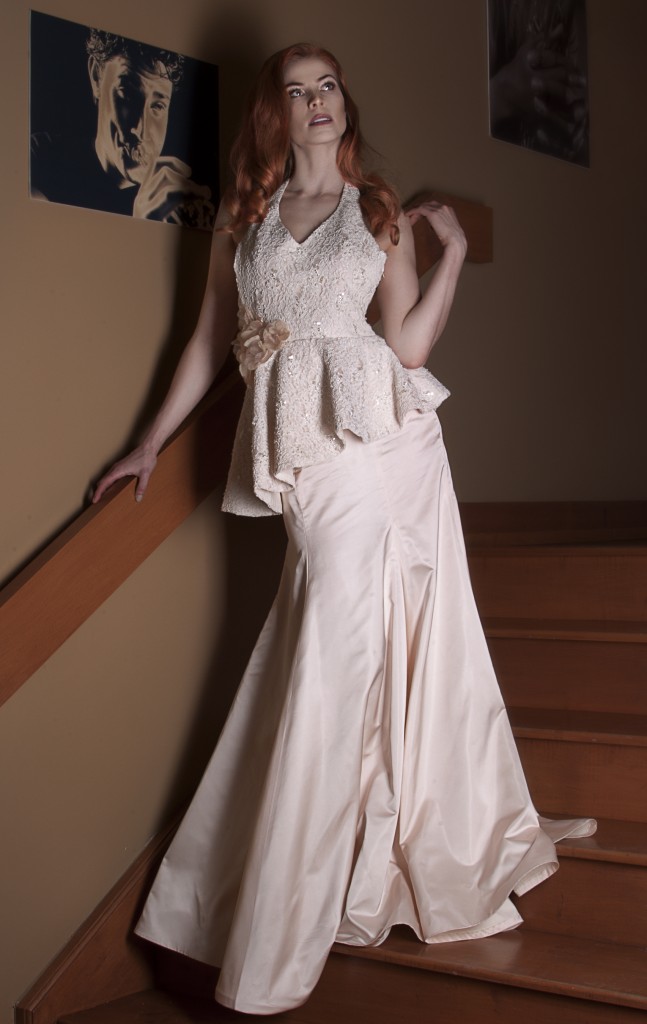 2. The next piece is really fun… it's a sheath style dress with an optional tulle skirt that can be added or removed at your whim!  If you can't decide what type of look you want for the day… you can have it all!  Sleek and sophisticated for the ceremony, and then throw on a touch of whimsy for your reception.
3. Just to switch it up a bit, here's a very different look; a sexy mermaid dress in silvery beaded lace with a tulle underskirt.  This piece is stunning, and will definitely make people look twice. YOWZA!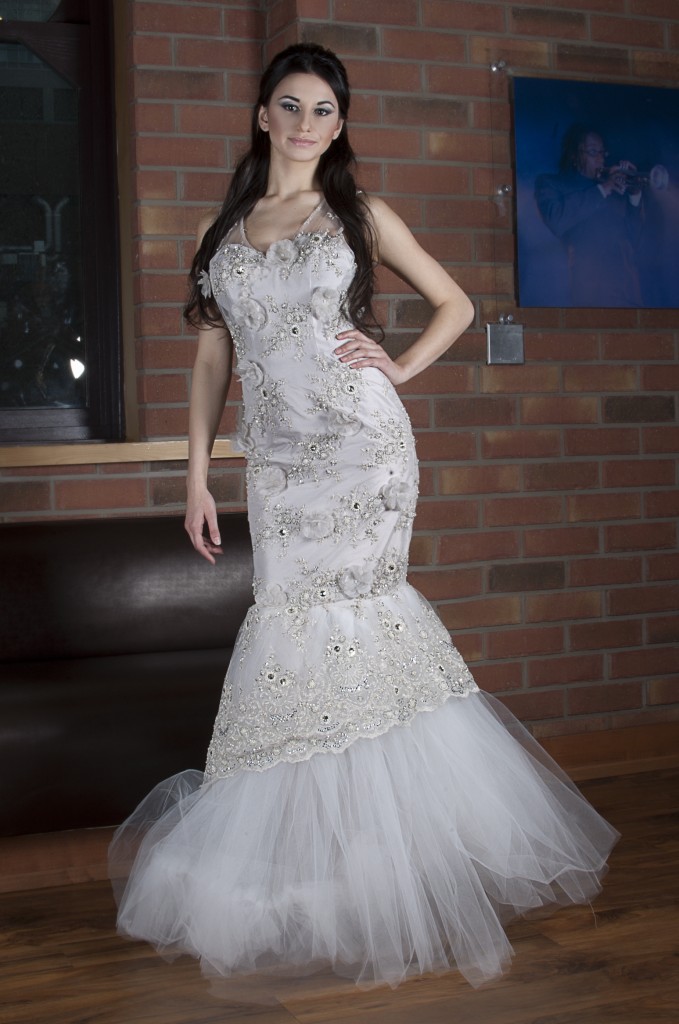 4. And… just in case you're thinking of a beach wedding, or perhaps want a second dress to change into… here's a fun little number that's great for a night of dancing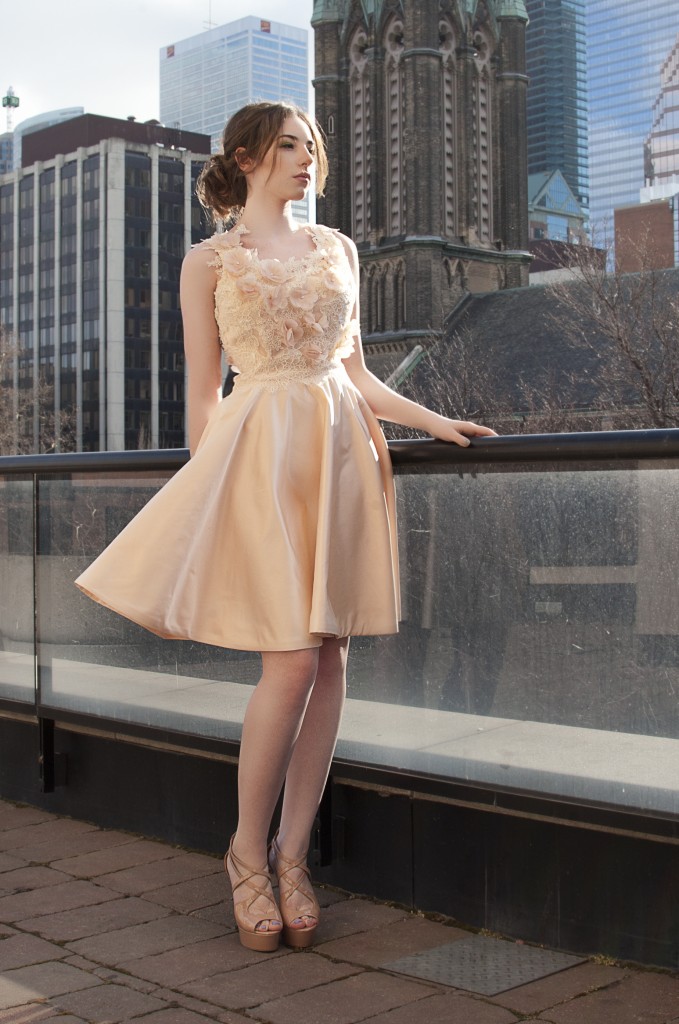 5. Elegant and sophisticated, this last piece will showcase your beautiful figure, with a timeless silhouette and gorgeous fabrics.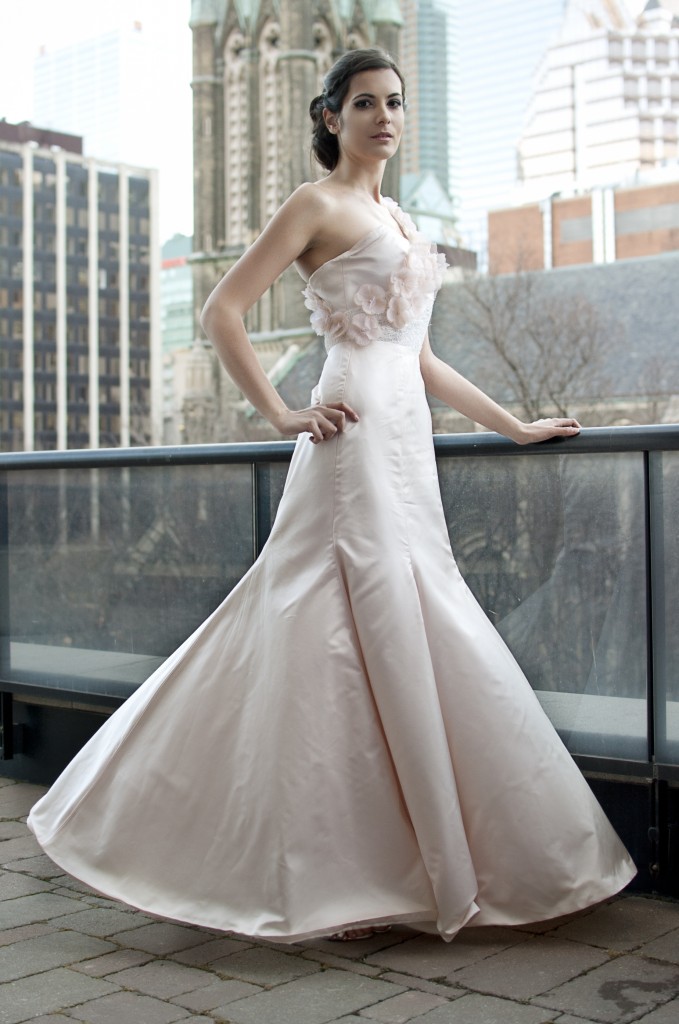 For interested brides: These one-of-a-kind pieces are selling at $1500 for the full-length gowns, and for serious buyers only.  They are all made for a slender bride with a 26″ waist.  They can easily be sized down.