Volume/Composition
It's true, we have about 500 dresses, about two-thirds are previously loved, and one-third are donated by our generous partners.  FYI… "Donated" does not necessarily mean "used".  Donated means people with great big hearts offering something without a price.  Our used dresses come from brides who donate their gowns with amazingly huge doses of great karma, and they actually sell faster!  They've been proven worthy with a trip down the aisle, and are ready for another.  Many come with notes passing on good wishes for you and your day.
Designers
We have everything from Alfred Angelo to the occasional Vera Wang.  You will frequently see dresses by Allure, Sincerity, Bridalane, Essence of Australia, Maggie Sottero, Paloma Blanca, Mikaella, Sophia Tolli, Venus, Alfred Sung, DaVinci, etc.  The retail value of the dresses ranges from several hundred up to over $5000.
Pricing
Here, dresses are priced at approximately 1/2 the retail value or capped at $1500.  Most destination dresses average about $250-300, typical polyester wedding gowns are about $600, and our collection of high end silks and laces average about $1000.  We also occasionally have some pieces worth a lot more that we cap at $1500.
How current are they?
Brand new dresses are often donated from salons once they are discontinued each year.  You are very unlikely to find the current year's dresses that are in magazines and being sold for full retail price in salons for obvious reasons… salons need to make a living too!!!   Used dresses are often from the previous year's collection as well.  In a nutshell, if a dress is still being sold at full retail price in a salon, we'll see it next year.  Please do not write and ask if we have a specific dress… many come without style numbers and we do not have a catalogued inventory.
We regularly go through and refresh our stock to make sure it's not too old.  Dresses over 5 years of age are re-donated to other charitable organizations.
Keep an eye on our blog for the latest arrivals
We don't have an online inventory because it changes too quickly, but we do try to post new additions when photos are available.  Many newer dresses come and go within a matter of days.
 For a short time only:
We now have a unique collection to offer… only 5 dresses, and once they are gone that's it!
CarlyMichelle is a bridal collection inspired by the beauty of nature and organic matter, by incorporating floral hues, textured laces, delicate organza flowers, softly draped silk fabrics and natural fitting silhouettes. This collection was designed by Carly Hobson, a Ryerson Fashion Design student, as a graduation requirement for the Senior Design Project course at Ryerson University. CarlyMichelle gowns gives brides a romantic look by using luxurious fabrics such as embroidered lace, assorted silk fabrics, organza flowers and bridal tulle. Two designs within the CarlyMichelle collection are versatile, as a result of having detachable elements in some of the designs, such as a removable tulle skirt and two-piece silk gown. CarlyMichelle gowns add a splash of color, creating a one-of-a-kind look for a blushing bride's special day.
1. This two-piece gown has a mature appeal.  It features a halter top of blush Italian silk overlaid with lace in an asymmetrical peplum silhouette over a trumpet style skirt.
2. The next piece is really fun… it's a sheath style dress with an optional tulle skirt that can be added or removed at your whim!  If you can't decide what type of look you want for the day… you can have it all!  Sleek and sophisticated for the ceremony, and then throw on a touch of whimsy for your reception.
3. Just to switch it up a bit, here's a very different look; a sexy mermaid dress in silvery beaded lace with a tulle underskirt.  This piece is stunning, and will definitely make people look twice. YOWZA!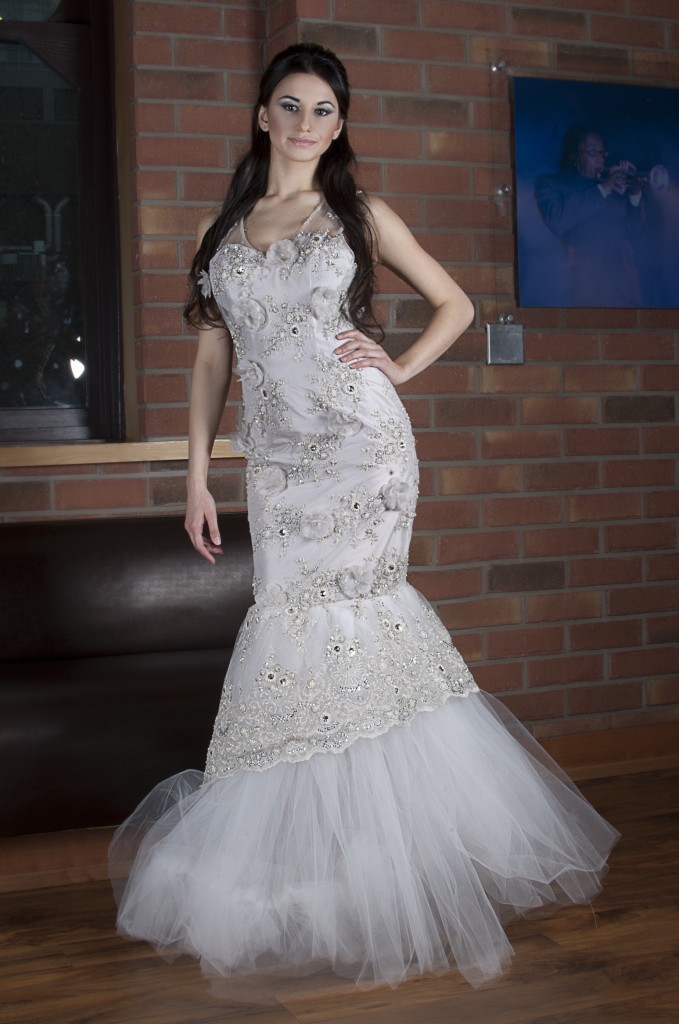 4. And… just in case you're thinking of a beach wedding, or perhaps want a second dress to change into… here's a fun little number that's great for a night of dancing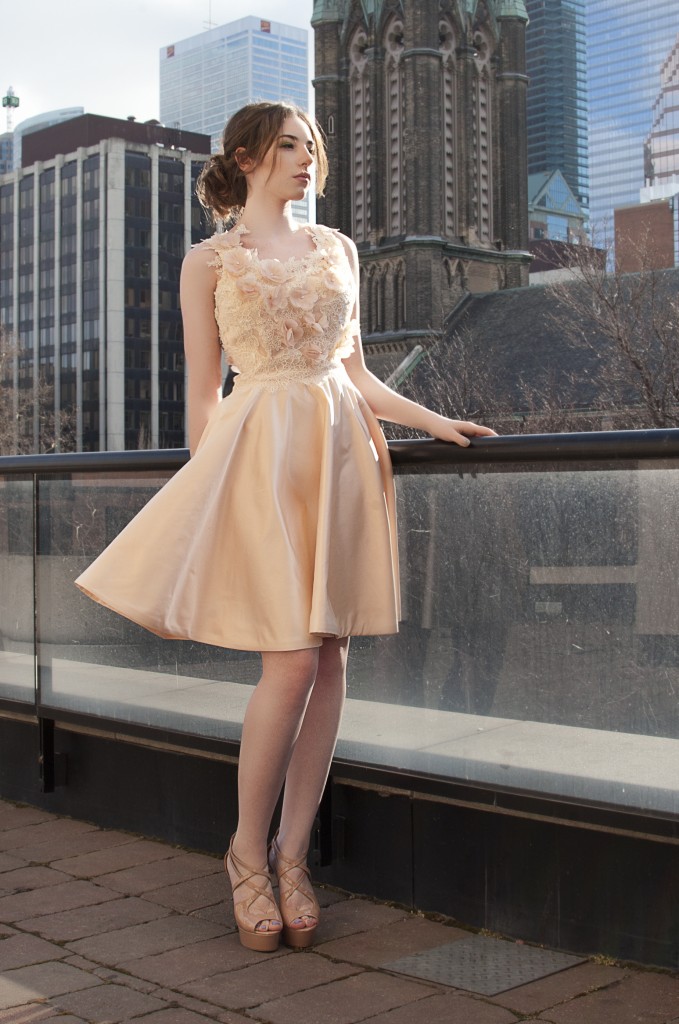 5. Elegant and sophisticated, this last piece will showcase your beautiful figure, with a timeless silhouette and gorgeous fabrics.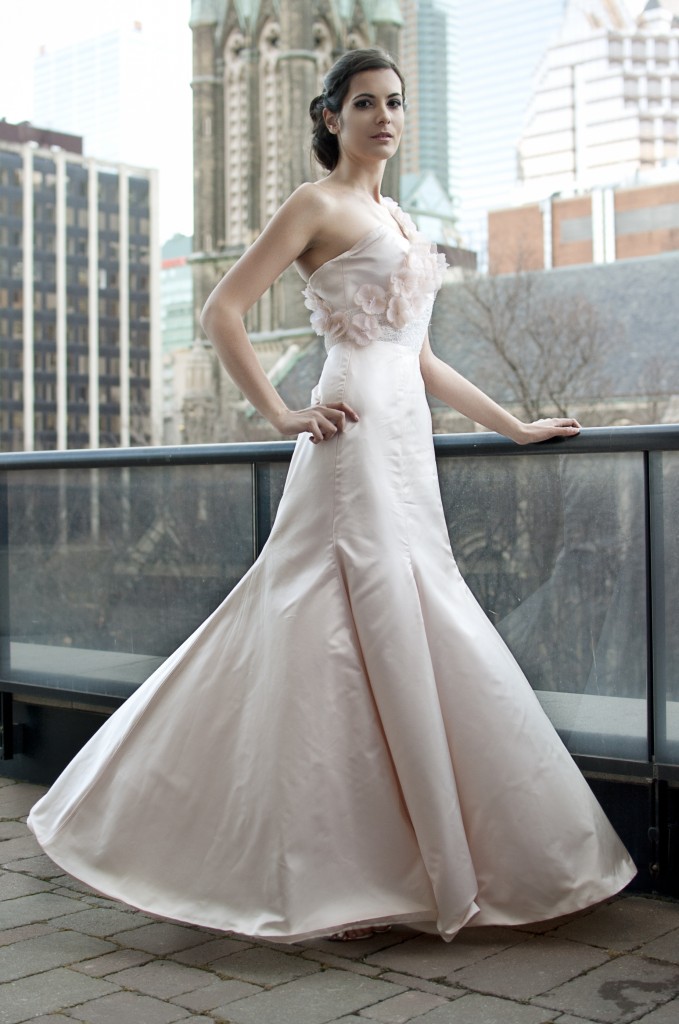 For interested brides: These one-of-a-kind pieces are selling at $1500 for the full-length gowns, and for serious buyers only.  They are all made for a slender bride with a 26″ waist.  They can easily be sized down.