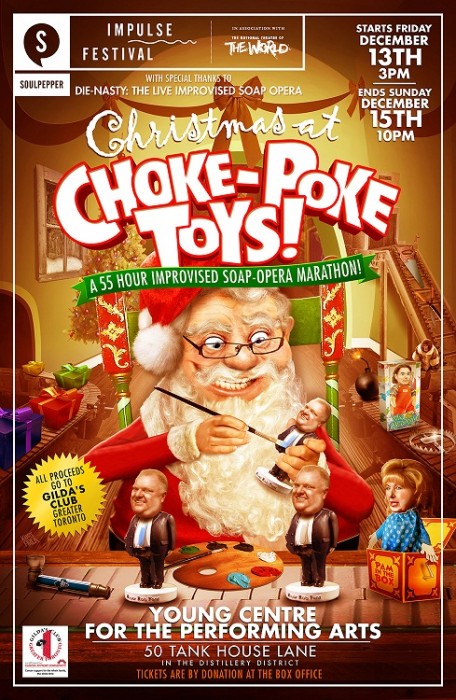 Catch the madcap antics at the soap opera comedy marathon for Gilda's Club Greater Toronto at the Young Centre for the Performing Arts, 50 Tank House Lane, in the Distillery District, starting today Dec. 13 at 3 p.m. and running for 55 hours until Sunday Dec. 15 at 10 p.m. On Sunday, Dec. 15 several special episodes will be held at Comedy Bar (945 Bloor St. West) from 1 a.m. to 8:45 a.m. before returning to the Young Centre for the concluding episodes of the marathon from 9 a.m. to 10 p.m. 

Grab some friends or bring your family – with performers like Gemini-award winner Colin Mochrie, "special guests" such as CNN/CBC star George Stroumboulopoulos and improv comedians from France, Germany, the U.K., India and Australia, there will be something to tickle everyone's funny bone. Each "episode" of the improv soap opera, Christmas at Choke-Poke Toys, is 1 hour and 45 minutes with a 15-minute intermission between each performance. 
Admission for each episode is by donation at the door. And please bring a new, unwrapped toy as well to help Gilda's Club Greater Toronto support the CP24 CHUM Christmas Wish.