It's always nice to celebrate spring with some gorgeous new arrivals here at The Brides' Project.  With them, we are so thoroughly grateful for the generosity and support of the lovely donors, and find that they are the absolute best way to show off these stunning pieces.  And to all of them, our wishes for a lifetime of love, laughter, health and happiness.
Keep in mind that these pieces come and go extremely rapidly, but if your appointment isn't for a week or two, there will be other new arrivals to choose from that are equally beautiful

The first is Andrea's Monique L'Huillier.  It's nothing short of romantic! (Photos courtesy of Mimmo Galati)
This next piece has a really unique neckline silhouette, carefully crafted in beautiful lace!  It's a DaVinci that Bev enjoyed at her Steamwhistle wedding, with these marvelous shots courtesy of Callum Pinkney Photography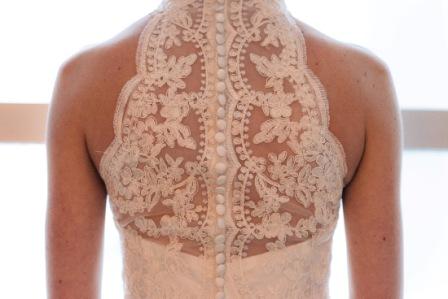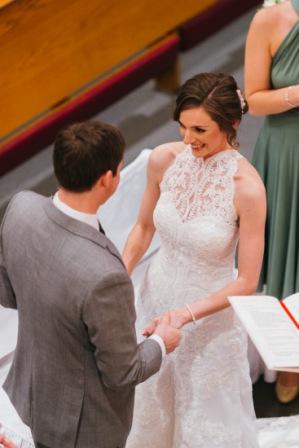 Lisa's dress comes with a fantastic story… this is what she passed along about her dress shopping experience:
I went dress shopping with 3 close friends at Becker's Bridal. I had a budget of 1000. I tried on many dresses within my price range however, none were standing out. I described my dream dress after discovering features that I liked and the clerk announced that the dress I was describing not only existed, but it was currently in their window. This worried me due to my budget but I agreed to try it on. Once on, my friends and I knew immediately that this was the one. I then inquired about the price, with much trepidation, and was shocked when my friends announced in unison that the dress was exactly 1000 dollars; hmmmm. When I reached the counter to pay, the clerk told me that the dress would have a balance of 1000 owing when I came to pick it up, and that the other HALF had been covered by my friends…It was the beginning of many emotional moments provided for by the amazing generosity of my friends and family. It is so amazing that there are people like you, volunteering their time to provide the same unforgettable, emotionally charged moments for people.
Her dress is also donated in memory of a friend lost to cancer… understanding that her wonderful gown can help someone else.  Thank you Lisa

 (Photos from Funky Town Photographer)