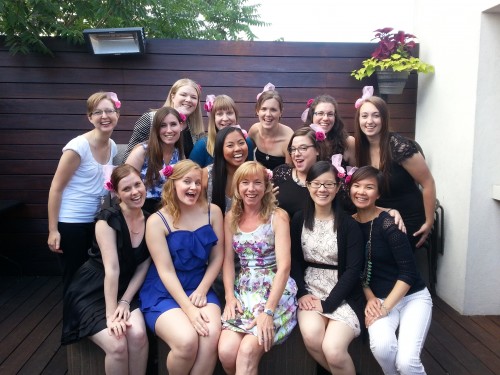 Volunteers are the heart and soul of The Brides' Project, and we maintain a team of about 20 fun-loving, friendly and motivated women.  These women keep the shop running on Sat 10-5, Sun 12-5, Wed 6-9pm and Thurs 6-9.
A typical day in the shop, we wear many hats (sometimes all at once!!!) including:
Greeting brides and their guests, providing a tour and explanation of what we do
Learning about the bride's needs, preferences, budget and style
Advising brides how to take care of our stock during their visit
Making suggestions, and providing insight on styles, alterations and cleaning
Answering phone inquiries and accepting donations
Providing consultations regarding wedding veils; colours, lengths, trims and matching
Sharing information with other volunteers and shift managers
Keeping dress rooms tidy, and gowns properly cared for between clients
Cleaning the shop
Requirements
To be successful in this role, no prior experience in this industry is required however prior customer service experience in various settings is an asset.
Here are the characteristics of a volunteer bridal consultant:
Quick to learn about the bridal industry!
Enthusiastic and passionate about giving back
Able to work independently, and juggle multiple demands
Takes initiative, confident
Non-judgmental and patient
Willing to give advice and suggestions
Diplomatic
Punctual, reliable
Enjoys being part of a team, sharing knowledge and having FUN
Top of the line communication and interpersonal skills
Professional and mature
Volunteers must be willing to make an ongoing commitment of at least one year, and ready to commit to two shifts a month (7-10 hours).  We need volunteers who are available to come in for our weekend shifts, particularly Sundays.  Extra time may be required for events and staffing the wedding shows at finite times throughout the year.
If you fit these requirements and are interested in joining the team, drop us a line with your resume, availability for our shop hours, and tell us how you will make a fabulous addition to the team!!!
Due to the volume of responses, please allow us to contact you when we have an opening.
Cats of TBP, past and present (click on image for more info)