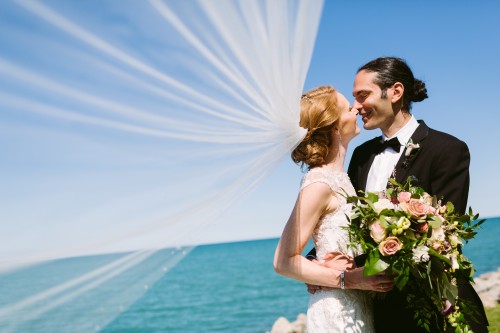 (Our beautiful volunteer Rebecca with her hubby… veil made by Helen and photo courtesy of Studio95)
Appointments are necessary for veil consultation and you must already have purchased your dress.
We have 100′s of veils in stock in a variety of styles, trims and colours, most are brand new and made by Helen!  Our veils are simple, classic and cost-conscious.  You will not find fancy veils with beaded trims or applique unless we happen to have one knocking around that was donated.
You can book your veil appointment using the button below.  You'll need to know the colour of your dress first!


How to choose a veil
My personal opinion: These days, most brides are looking for something simple that does not compete with the dress since there are a lot of lace and other mixed-fabric gowns.  Cut edge veils go with everything, and for those who like a trim, rattail (a round cord) is very popular.  With a plain dress, you can have some fun with lace trims and other options!
For drama… nothing beats a chapel or cathedral length veil.  Two popular options are a cut edge – so it can blow in the wind, or lace edged to create a train.
Some Sweet options for your veil
Colours: white, light ivory, creamy/dark ivory
Trims: cut edge, ribbon (satin or organza), satin cording (rattail), lace
Embellishments: Swarovksi crystal can be scattered on your veil to pick up some sparkle and light
Lengths: waist (29″), butt (32″) fingertip (42″), waltz (52″), chapel (7ft) and cathedral (9ft)… and anything in between.
Tiers: 1, 2 or more!  Detachable blushers (2nd tier) are also available
Cuts: top hem (standard).  Some centre cut veils are in stock.
Fullness: most veils have standard fullness (72″ wide)
Pricing:
In terms of pricing, here are the starting points for simple veils.
(These prices apply to cut edge, ribbon, rattail (cording) and bias trim.  Lace is extra.)
Add scattered crystal: starting at $30/tier
Waltz or longer (Chapel or Cathedral):

1-tier: $80
2-tier: $110 (blusher length second tier)
Add scattered crystal: starts at $60 on long tier
A note about lace: It's tough to pair a lace veil with a lace dress, and very easy for the two to compete.  The lace veils I offer here have lace all the way around, and not just at the bottom.  I suggest a cut edge veil with a lace dress.  Lace edged veils are absolutely stunning with a plain dress!
Custom Pieces:  Some variations of what we already offer on the racks are available to be made; e.g. if you want two tiers instead of one, a different length, or crystal added.  No fancy stuff!
We also have a few feather fascinators and birdcage veils for that vintage look!  We also highly recommend Karyn Gingras of Lilliput Hats to custom design the perfect piece for you and/or create perfect fascinators for your wedding party!  You do not need an appointment for fascinators or birdcage veils.