The Brides' Project donates ALL PROFITS to cancer charities, and the dedication of our donors, volunteers and brides-to-be has led to a huge growth in donations, particularly in the last 5 of our 10 years in business.  In 2013, our donations exceeded $100,000, and by the end of 2014 we will have donated half a million dollars to fight cancer!
See how we have grown in the last 5 years!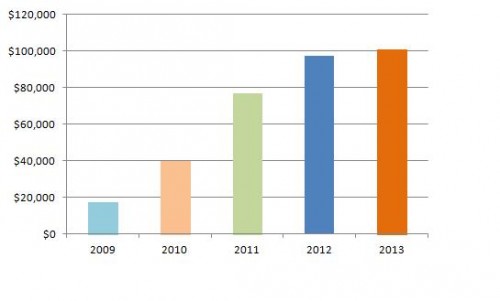 Who we support
We support a variety of different cancer charities, including Gilda's Club, Wellspring, Camp Quality, the Odette Cancer Centre at Sunnybrook, Prostate Cancer Canada, the Princess Margaret Hospital Weekend to End Women's Cancers, the Terry Fox Foundation and the Breast Cancer Foundation.  The breakdown is shown below: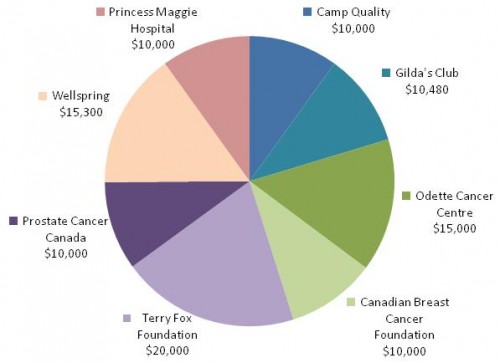 Other donations
Our gifts are not always monetary donations; we also donate dresses and/or accessories to other groups such as Arts Junktion, Ballroom Blitz, DoubleTake (Yonge St. Mission) and several others who use them for fundraising or direct service provision to their clientele.  For example, in 2012 we were responsible for outfitting 15 North Korean refugees for their group wedding at City Hall.
Here is a little more information about our many beneficiaries:
 
The Canadian Breast Cancer Foundation
We take part in the annual Run for the Cure, which is a huge event with about 30,000 participants in Toronto.  Funds are directed to breast cancer research and support.
Camp Quality
An amazing group that provides year-round support for children suffering from cancer and their families.
 
As the sixth-largest cancer program in North America and a partner of Cancer Care Ontario, the Odette Cancer Program at Sunnybrook Health Sciences Centre receives 250,000 patient visits each year, providing innovative and compassionate cancer treatment to people from across Ontario. The program's fundamental aim is to find cancers early and treat them with the most advanced, minimally invasive techniques so patients can get back to their lives quickly.
 
Gilda's Club
Gilda's Club Greater Toronto is a place where men, women, teens and children with cancer – along with their families and friends – can join with others to build social and emotional support as a supplement to medical care.   Gilda's Club also welcomes long-term cancer survivors and those who have lost someone to cancer.  Free of charge, Gilda's Club offers support and networking groups, lectures, workshops and social activities in a non-institutional, homelike setting.   Gilda's Club Greater Toronto is the forefront in providing member centered care.   Our customized membership plans are specifically designed to meet the on-going needs of each child or adult.
 
Terry Fox Foundation
The Terry Fox Foundation is an extremely efficient fundraising organization that focuses on cancer research.  They have funded millions of dollars of groundbreaking research that has helped make huge strides ahead in the fight against cancer.
 
Wellspring
This organization focuses on the psychosocial side of cancer, and provides umpteen ways to support men, women, children and families battling the disease.  In 2012 we adopted a room in their new space called The Wellness Lounge and provide $15K annual support to maintain our commitment.