This is a 2-part post as I belatedly send a huge Thank You to some recent donors who brought us dresses and those who recently celebrated their marriages in a gown they found with us!  Some of these dresses have already found homes, and many more have arrived as well.
Congratulations to all our brides, and wishes for health, happiness, love and laughter.  We greatly appreciate your photos too… it's a great way to illustrate how beautiful our brides are

Lovely Lauren (photos by AGI Studios John Lin)  This pair just beams with joy, and Lauren clearly shows that the dress deserves to be loved again!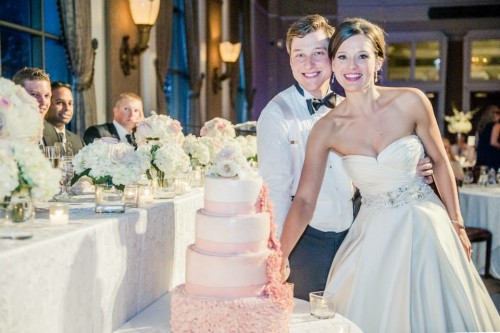 Julie & Andreas (photos by bousquetphotography.ca)  Julie sent us a beautiful note about her dress – and it had already had a trip down the aisle with its own story to tell.  Dresses never look the same on different brides – in fact they are quite unrecognizable!  Each bride adds her own touches, and her own happiness to the great karma that is passed along.  This is what Julie had to say…
I decided to buy my wedding gown, and donate it back again to the Brides' Project because I am very close to the fight against cancer. I have worked for the Canadian Cancer Society for 8 years and experience first-hand how cancer can turn people's lives upside down. I thought supporting this cause on such an important day of my life was only fitting. Now I'm happy to donate the dress back to the Brides' Project so it can bring joy to a third bride.