Helen Sweet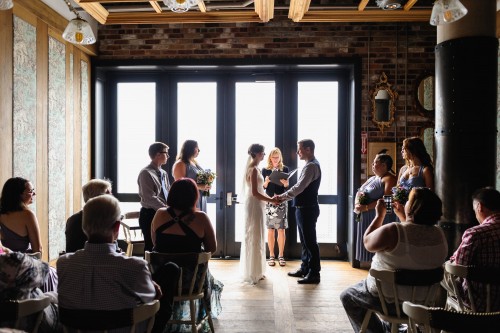 (photography courtesy of Black Umbrella Photography )
Not only did she start The Brides' Project, but Helen has also been officiating weddings for the last 12 years and has conducted over 700!  She was voted by her peers in the wedding industry as the most popular wedding officiant in Toronto in the coveted annual Wedding Expert Awards 2015.  In an exclusive interview, this is what she had to say…
"Okay, so you've got the venue, you've picked your flowers, you've got the dress and accessories…
… you've gone for tastings of hors d'oeuvres, cakes and everything in-between to the point of wondering if the dress will fit…
… you've got a limo that looks like a bus on wheels complete with a disco ball, flashing neon signs and champagne on tap…
… you've detailed every possible combination of family members in terms of 'must-have' pics for your photographer, drank too much wine while doing so and have requested strange poses that are physically impossible… (reminding you of TWISTER)
OH, and you've got the man/woman to marry as well!  Mustn't forget that …
But something is missing.  Egads… got the list, checked it twice… checked again…
THE OFFICIANT!  Someone to legally marry you on the big day!"
Helen Sweet is a licensed officiant who has performed oodles of marriage ceremonies of every kind – including same sex, inter-faith, cross-cultural, secular, etc.  She'd be happy to talk to you about your ceremony, and how to make it unique, fun and memorable.   She's done ceremonies that vary from 30 second "cover the legal requirements" to warm, engaging ceremonies that appeal to a broad group of guests.  She's also done some very non-traditional pieces; pirate weddings, audience-interactive comedies, and even a "non-wedding", and no matter what you choose, she is happiest when helping to make your day as different and unique as you are.
Get your wedding day off to the right start!  Ultimately, the ceremony is the first part that your guests are exposed to and will set the tone for the remainder of your celebration.  Remember… these guests are coming for a reason… the marriage … not just the food and the open bar!
Her approach is highly consultative, and she will guide you with the content and procedure.  Most importantly… she makes you feel comfortable during your ceremony, and helps you avoid all the awkward and intimidating moments.
Testimonials… from some of the amazing folks she's had the privilege to work with!  Click here
Helen does weddings primarily in the downtown core (e.g. Distillery, Berkeley, Casa Loma, Fantasy Farm, 1 King W, Gladstone, Globe, Twist, The Great Hall, Enoch Turner, Hart House, Todmorden, 2nd Floor Events, Steamwhistle Brewery, Granite Brewery, etc) and other TTC accessible spots (Auberge du Pommier, Sunnybrook, Eglinton Grand, etc).  Boat weddings and the Toronto Islands are also favourite locations!
Just ask about your special day.
(Small print… officiant may be a tasteful red-head without notice.  Also, Helen is licensed under her maiden name of Sandys-Wunsch).
Video evidence… of very traditional vows for a lovely couple!  https://vimeo.com/175624325
For photos of me in action, including some less traditional events (including a pirate wedding) just drop me a line.  I'm happy to provide those items for your viewing pleasure.